Litteratur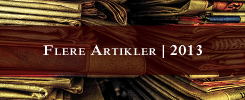 2017 | 2016 | 2015 | 2014 | 2013
Artikler 2013
Januar 2013

Real Vampires, Real Lives – Vodalok Nightkiller
- RVL

Virgins & Vampire Worship: The Religion Of Twilight
- Linda Kay Klein

SFU Animal Killer Released From Jail – Expected To Live In Vancouver
- CTV News

Looking For Real Vampires – World Of Wonder Productions
- Experience Project

VVDFGS Survey Re-Opens For Second Season
- Octarine Valur

Real Vampires, Real Lives – Freedom Factors
- RVL

Vampire & Goth Community Notice – Patrick McIntosh
- Merticus

AVA Official Statement: Humane Treatment Of Animals
- AVA

Vampire-Cult Killers Lose
- Orlando Sentinel

New Laws To Target Online Predators
- The Australian

Real Vampire Community Animal Welfare Awareness Statement
- AVA

Mentally Unstable Mans Bites Ostrich To Death & Drinks Blood
- Live Leak

A Manga Starring A Guy Obsessed With Donating Blood
- Jake Adelstein

Vampire Community Puts Animal Ethics In Writing
- SAVN

Alternative Thinking – The Vampire Retrovirus
- Tim, RVL

The Real Vampires Of New Orleans – Sizzle Real
- YouTube

Vampirism: Real People, Real Vampires?
- Ely North

Cat Hair, Drinking Blood - 'My Strange Addiction'
- Red Eye

Alternative Thinking – The Spirit Be Willing
- Tim, RVL

Real Vampires & The Occult: Interview with Libby Hodges (House of Sheol)
- LiveSCIFI
Februar 2013

Why Japanese Women Are Caught In 'Yaeba' Fang-Teeth Beauty Trend
- Digital Journal

Jodi Arias Says She Dated Abusive Vampire Hunter
- Huffington post

The Truth About The Vampire Community – Ravvyn LaShayd
- YouTube

RIP Trinity Black – 1982-2013
- Lady Zombie NYC

How Soderbergh's Film Was Inspired By a 'Real-Life' Vampire
- Wired Magazine

Animals In The Vampire Community
- A Vamp's Life

A Case Of Vampirism – Journal Of Psychotherapy & Psychosomatics
- Alpha Galileo

Demystifying 'Real' Vampirism For The Rest Of Us
- Merticus

Fracking Vampires
- God & Mirrors Blog

Real Life Vampires, Vampirism, & Mental Illness
- Suscitatio Enterprises, LLC

Healing By Feeding: An Experiment
- SAVN

Community Development: A World Of Hope
- Tim, RVL

Satanists Caught Drinking Blood At Accident Scene
- Balawayo 24

Fanging Around
- Sue Henry

'Vampire' Woman Lands In Kovai GH
- The New India Express
Marts 2013

Being The Newbie
- Seraphim Vega

Seeking Women for Suicide+Blood Drinking & Eating
- German Cannibal

Modern Living Vampires – Predators or Not?
- Tim, RVL

They Killed My Sister & Drank Her Blood
- Times Live

American Society 'Submerged' In The Occult, Says Ex-Satanist
- Christian Post

The Real-Life Vampire: Woman Admits She is Hooked on Drinking Blood
- Mail Online

VVDFGS Preliminary Results Report #1
- SAVA

The Global Vampire & Donor Community Directory
- VVC

'Vampire' Shane Chartres-Abbott's Killer Paid For Alibi, Court Told
- Herald Sun

Witch-Hunts, Moral Panics, And Modern Pagans – Jason Pitzl-Waters
- The Wild Hunt

Real Female Vampires Of The United Kingdom
- Sally Painter

Pair Plead Not Guilty Over 'Vampire' Gigolo Murder - Steve Butcher
- The Age

Pagans Lay Complaint Against Barbara Creecy – South Africa
- News 24

My Strange Addiction: Woman Drinks Human And Animal Blood
- Huffington Post

Spurned Lover Turned To Satan, Violence, & Blood Drinking
- UPI

Naturally The Pagans Are Quite Upset
- Andrew Donaldson

RIP – Sam'mael Draconis
- Merticus

Intelligent Guide on How to Identify "Satanic Panic" in the Media
- Octarine Valur

Real Life Vampire? Korean Girl Is Addicted To Drinking Fresh Blood
- Asian Blog
April 2013

Female Satanist Uses Money To Initiate Children Into Satanism
- Bulawayo 24

Letting Go Of Therianthropy For Good
- Lupa

What DOESN'T Make It To The Papers
- Octarine Valur

Violence Against Goths+ Is A Hate Crime
- The Guardian

Midrand Trio Sought About Blood
- News 24

Opinions On The Current State Of The Online Vampire Community
- Alison Demzon

Global Vampire & Donor+ Directory Update & Geographic Breakdown
- Merticus

Man Rapes Grand-Child, Collects Blood
- New Zimbabwe

Interview with Magus Etu Malku: Composer & Magickian
- Kelly Scarlet Rakoczy

Am I Menopausal Or A Powerful Werewolf?
- Huffington Post

Kirsty 'Sacrificed' For Wishes: Drinking Blood, Eating Flesh, & Setting On Fire
- News 24

Stepping Into The Astral (Etheric Projection, Dream Body, etc.)
- House Of The Dreaming
Maj 2013

Global V.D.T.O.R.S. Directory Update
- Merticus

Petition To Disband The South African Police Service's Occult-Related Crimes Unit
- Avaaz

Vampiric Cure for Baldness: Injecting Blood into Head to Stimulate Growth
- Daily Mail

The Jamestown Cannibalism Is No Surprise – It's Part Of Human History
- The Guardian

A Christian Vampire Speaks Out
- SAVN

The Dark Nations Yearly Report
- The Dark Nations

Vampire Attacks Musician Outside La Crosse Center
- Lacrosse Tribune

Chris Hansen's 'Undercover Investigation' On Real Life Vampires
- Merticus

U.S. Courts – First Amendment Educational Program – Vampire Cults
- Merticus

Real Vampires, Satanists, Furries, & More
- National Geographic Channel

Teen Axe Suspect 'Drank Baby's Blood'
- News 24

Freedom In Expression ~ House Rakoczy
- RVL

Home And Hearth – The Benefits Of 'House' Membership
- RVL

Yanked By eBay, A Merchant Fights Back: Patrick Rodgers Of Dracula's Ball
- Jeff Gelles

Scots Scientists To Trial Synthetic Human Blood
- The Scotsman

SAVA Accepts Proposed Changes To South Africa VC Donor Identification System
- SAVN

Lady Zombie & Ali Fangsmith's Romantic Subculture Bash
- Offbeat Bride

Global VDTORS Directory Update: 100% Operational
- Merticus
Juni 2013

Real Vampires w/Belfazaar Ashantison
- National Geographic Channel

Vampire Mum-Of-Two – I Drink Nearly Two Liters Of Blood A Month
- Mirror UK

Real Life Vampire & Loving Mother Sucks Human Blood: Lady DarkRose
- Merticus

SAVA Clarifies Uneducated Claims Of Blood Drinking & "Satanic Crimes"
- SAVN

When You Think Your Mother Is A Vampire
- Michael Brown

Woman Recounts Ordeal In 'Vampire's' House
- Standard Media

Craving The Limelight: Julia Caples (Lady DarkRose)
- Octarine Valur

Russian Vampire Community Helping Animals
- Darkfess

Two Major Projects Of The Vampire Community
- Starline
Juli 2013

Vampirism: Psychic, Emotional, Financial, & Sexual Vampires
- KAPOW Radio Show

'Vampire' Murder Hunt Ends In Perth Factory
- The Age

Vampire Couple Drink Each Other's Blood
- Barcroft TV

Assault Suspect On Bad Drug Trip Drank Blood
- mankato Free Press

Vampyre – Superstition, Society & Subculture
- RVL

Global VDTORS Community Directory – July 12, 2013 Update
- Merticus

'Vampire' Lovers To Marry
- Daily Star

The Myth Of Turning
- Octarine Valur

Psi Hunger
- Psion Valur De Nocte

Kisii (Kenya) Man Slaughters Son & Drinks His Blood
- NTV Kenya

Teen's Bloody Rampage – Chewing Mum's Flesh
- Daily Sun

United Kingdom 'Porn' Filter To Ban/Censor "Esoteric Websites"
- Huffington Post

Real-Life Barbie Says She is Spiritual Guru + "Vampire" in Documentary
- Liberty Voice
August 2013

Mermaids Are Officially Cooler Than Vampires, & That's Great For Women
- The Wire

City Of Bath College – Vampires Course
- Bath Echo

Haunted Curiosities' Guide To Duping Goth Kids And Twilight Fans
- DisInfo

Man Slits Seven-Year-Old Son's Throat Before Drinking His Blood
- The Star

Brisbane Court Jails Man For 12 Years Over Internet Sex Offenses: VampireFreaks
- ABC

We Are Spirits of Another Sort
- Joseph Laycock, PhD

Vampires As An Identity Group
- Joseph Laycock, PhD
September 2013

'VampireFreaks' User Tried Having Sex with a 12-Year-Old Girl
- Syracuse

The "Vampire Virus" Theory
- South African Vampyre Culture Center

Non-VC Sites Posing As Info Resources
- South African Vampyre Culture Center

Life After True Blood: Are Vampires Still Going To Rule The Media?
- Karen Belz

Woman Acquitted For Attack On 'Vampire'
- Illawarra Mercury

I Dated A Vampire (And Would Again!)
- Laloe

Christians Vs Christian Extremists
- Lunah Valur Eir

The 13 Nightside Commandments
- Goddess Rosemary of Sahjaza

The Feed: Interview With A Vampire (Raziel)
- SBS Australia

Formation Of New Council Heralds Growth In South African VC
- Octarine Valur

Social Work, BDSM And Vampires (Academic Paper)
- Dr. D.J. Williams
Oktober 2013

Vampire Magic Abides Beneath The Sheltering Oak
- Belfazaar Ashantison

Modern Day Vampires With Guest Vlad Don Deich
- WitchTalk Radio

A Short Introduction Of Self
- Nox Kassapu

Pagans In The Vampire Community
- Serephim Lena Karayan

The Transhuman Hand
- Mistwolf For Noctalium

Vampire Cannibals: Real Ghouls Haunt Papua New Guinea
- Live Science

Lesbianism And Satanism Rock School
- United Methodist Church

Demystifying Goth: Why Do Designers Love It?
- DNA India

Boy Star Witness in Father's Blood-Drinking Murder Trial
- Int. Business Times

Introducing The British Vampire Association
- Circe Arcanum

Kyle Morgan Sentenced To 30 Years For Grisly Murder
- Northwest Herald

Ten People Who Claim To Be Vampires & Aliens!
- Daily Bhaskar

Vampyre/Donor Appreciation Day 2013 For South Africa
- Octarine Valur

Chatting With Vampires: The Power Of Jyade
- Tim, RVL

Teenager Arrested In Alleged Satanic Murder
- SABC

St. Mary's University Twickenham Offers Vampire Culture Degree
- Tom Ambrose

Houston's Vampire Culture Unveiled
- Newsfix Video

That Time Doctors Tried To Make The Pope Into A Vampire
- Io9

Otherkin - Of Heaven Or Hell?
- Samael Anathan

An Unquenchable Thirst - Dr. John Gordon Melton
- Baylor Lariat

Halloween 2013 Special: The Vampire Edition
- IndieJudge Magazine

If You Were A Real Vampire You Would Eat This
- Cherise Udell

Yes, Real-Life Vampires, Werewolves & Zombies DO Exist!
- Yahoo Southeast Asia

Vampires: Out Of The Coffin
- TheMedicalBag

Varla Ventura's Banshees, Werewolves, Vampires & Creatures of Night
- Coast to Coast

Our Interview With A Vampire: Prince Tarik
- CBS Houston Radio

Cannibalism Not Religious, Deemed 'Learned Behavior'
- Flor-ala Una

Interview With A Vampire Scholar: Baylor Prof. Is 'Real-Life Van Helsing'
- Waco Tribune
November 2013

A Romanian Scientist Claims To Have Developed Artificial Blood
- Smithsonian Magazine

Vampires In Bloemfontein…
- News24

A Single Vampire Is Mad, Thousands Are A Minority
- Hesperus Rising

The Spirit Of Vampirism
- Hesperus Rising

Prologue – The Spark
- Samael Anathan

The Vampyre Family: Passion, Envy & The Curse Of Byron
- The Telegraph

Interview With A Vampire: The Vampire Court of Austin
- FOX 7 News

Patricia MacCormack Talks About Ahuman Theory
- Daily Nexus

Testimony On Real Vampires (Blood & Energy) In Washington County
- Oregon Live

You Can Still Be A Vampire
- A Mirror Made Of Words Blog

Lutherans, Vampires, And First Communion
- Dawn Duncan Harrell, Patheos

Oregon Murder Trial Spurs Question On Vampires + Guilty Verdict
- Mail Tribune

Is Republican President Michael Sata A Vampire?
- Peter Adamu

Chatting With Vampires: Back & Toward The FutureStefan Resurrectus
- RVL

Why Teenagers Join Cults
- Bulelwa Dayimani

Lady Gaga Calls Perez Hilton Fake, He Calls Her a Real-Life Vampire
- US Magazine

New Vampire Documentary Directed by Juliet Landau & Deverill Weekes
- MrDisqusting

Blood Cupping & Bloodplay Scene (NSFW)
- The Abode Of The Blood Kitten

The Space Vampires
- VampChix

The Truth About Psychic Vampires
- M. 'Niki' Fears

2013 Public Transcript Meeting
- VVC

Vampire Community Reformation Questionnaire Responses
- VVC

Feeding A Psychic Vampire
- Circe Arcanum
December 2013

AltSA "Interview" Disappoints Local Vampire Community
- Octarine Valur

Naivasha 'Vampire' Cuts His Five Year Old Son And Drinks His Blood
- Standard Digital

A Vampire's Guide To New Orleans
- Steven P. Unger

Timothy Vafeades, The Vampire Trucker, Shames The Undead
- Michael Daly

Chatting With Vampires ~ To The Left Please
- Tim, RVL

Michelle Belanger – America's Most Haunted Radio
- Blog Talk Radio

'Vampire' Does Not Go To Church: Noxolo Nkabinde
- Swazi Observer

'Vampire' Spends Christmas Behind Bars: Nosipho Shongwe
- Swazi Observer

Murder Suspect Tells Paris Police He Drank Homeless Man's Blood
- Daily Mail

A New Beginning – International Court Of Elders (ICE)
- Tim, RVL